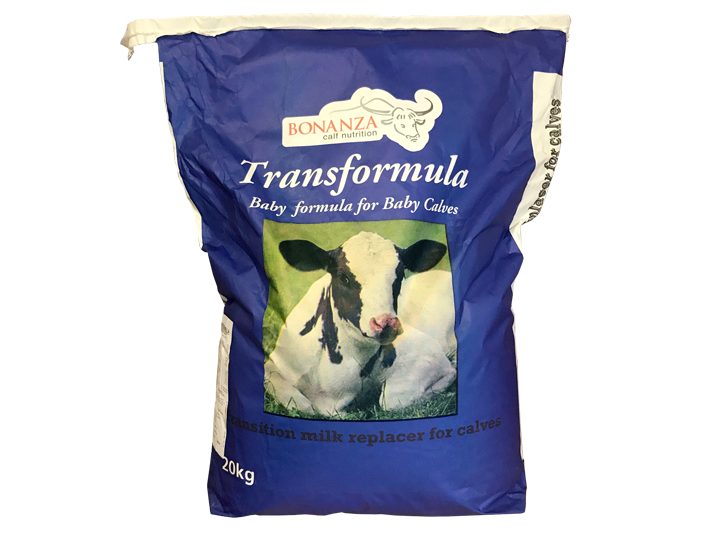 Transition milk is the milk cows produce after colostrum and before they produce what we consider milk. It is higher in most nutrients and antibodies and is highly beneficial to feed to calves. However, the effect of a high total bacterial count in transition milk and the risk of spreading disease offset these benefits. Using Transformula is the perfect solution and gives baby calves what baby calves need. Transformula – the only transition milk replacer for baby calves
Transformula
A skim and whey milk replacer using milk protein with added immunostimulants and probiotics for feeding calves in the first days of life.
Formulated to provide a nutritious platform which is similar to cows' transition milk.

Over 200g of low heat skim milk, buttermilk and concentrated whey protein in every 300g of feed.

Beneficial Probiotic bacteria to compete with pathogens in the small intestine.

Krypto-nite – a plant extract to ensure the small intestine is a hostile environment for pathogens.

Yeast extract to heighten the calf's immune response and linseed oil to reduce inflammation reactions.

Egg protein from hen's immunised with Rotavirus, Coronavirus, E. coli and Salmonella.

Contains buttermilk which reduces stomach upsets and feed refusals as it acts as an emulsifier enhancing fat breakdown and it contains a lactic acid flavour. Additionally, it can reduce rotavirus infectivity.

It contains a blend of oils which increases digestibility of fat for the calf; it is important to have a good mix of short, medium and long chained fatty acids. Additionally, it contains a blend of Omega 6:3 that enhances calf ability to combat pneumonia.
Probiotics to balance the gut and protection against the main disease challenges facing young calves.

Highly digestible with >60% skim milk

Boosted immunity

Easy mixing and very palatable
| | |
| --- | --- |
| Protein | Minimum 23% (milk protein) |
| Fat | 22% blend of 6 oils for maximum digestibility and boosted immunity |
| Ash | Maximum 0% |
| Crude fibre | Maximum 0.07% |
| Moisture | Maximum 4% |
| Lactose | < 50% |
| pH | < 6 |
Heifers on course for calving targets after Transformula helps prevent scour at Gardeners Farm in Hullavington.
Gardeners Farm Testimonial
Help and Advice
FOR CALVES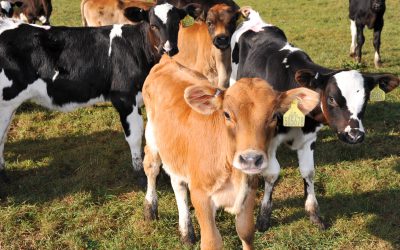 Although it may not seem so, the perinatal period is the most risky period in the life of a calf. Getting a live calf on the ground is crucial in all our books, however ensuring the calf doesn't contract disease when it gets there is another imperative battle to be fought.
read more
Producers of the renowned Shine range of milk replacers for calves and lambs.
© 2017 Bonanza Calf Nutrition Ltd.