Calves reared on Compumate® hit lifetime performance targets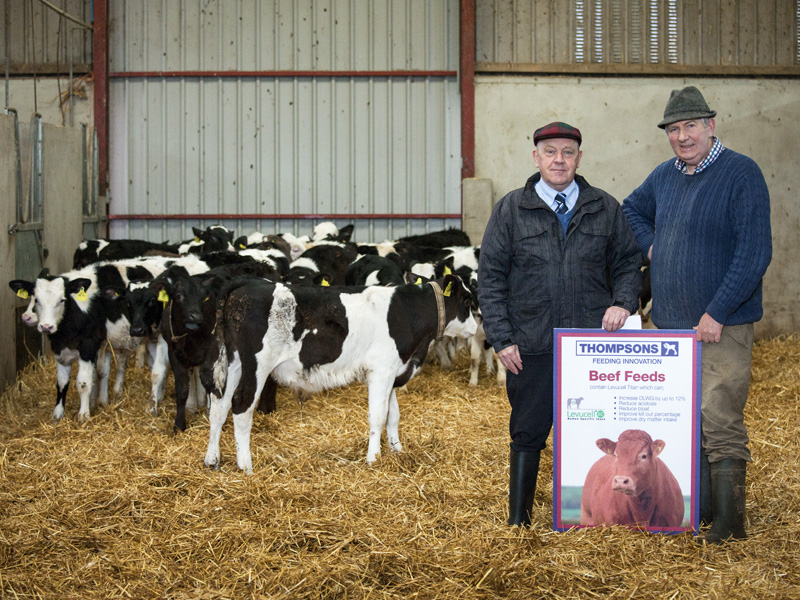 Calves at a Randalstown beef fattening unit are achieving significantly higher liveweight gains and reaching their lifetime performance targets since a milk replacer designed for computerised fed calves was introduced into the system.
Joe O'Boyle runs a large-scale system at 34 Cranfield Road with his son and daughter, buying in strong and well-fleshed black and white male and Continental calves. With at least 500 cattle at the farm, calves are fed milk replacer via two computerised feeders. Although Joe has had the feeders for 10 years, he says he has only been getting the best from them since using Compumate®.
He had always struggled to keep flesh on the calves, especially in the first weeks after they arrived on the farm; they often lost weight and suffered a brown nutritional upset. Joe says Compumate® enables calves to keep their thrive, bloom and flesh. "This gives us more options for the stock and has significantly reduced rearing costs,'' he says.
Before feeding Compumate®, Joe had to extend the calf feeding plan to make up for poor performance in those first few weeks. This limited his ability to sell stock at a younger age.
"Before feeding Compumate®, we struggled to get all cattle to finish on time but we no longer have this difficulty"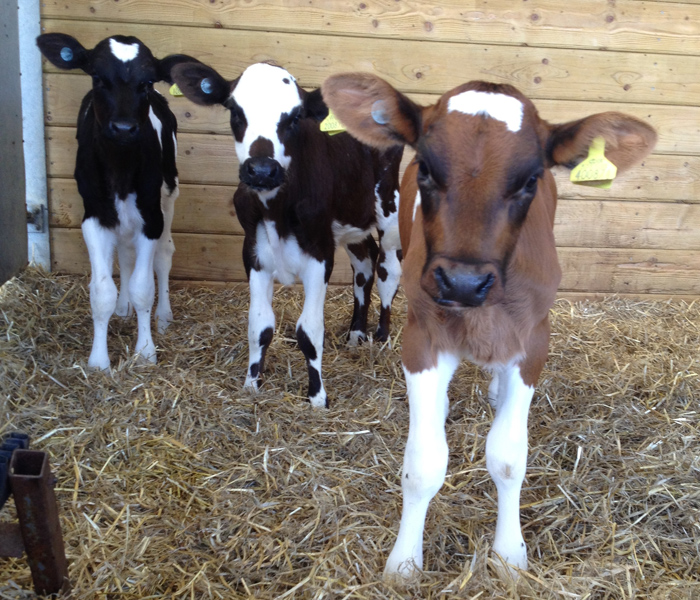 Joe says this limiting factor has now been eliminated. "There is no nutritional stress post-arrival, the calves are getting significantly better liveweights during the rearing stage and animals are reaching their lifetime performance.''
Compumate® is digested in the same way as cows' milk, eliminating nutritional stress. Joe had previously used a replacer that was totally different from cows' milk and this was at the heart of problems with health and performance.
With advice from Joe Murphy from Bonanza Calf Nutrition, manufacturer of Compumate®, and Basil Bailey, of John Thompson and Son, Joe altered the computer feed plan and youngstock rations to remove nutritional stress. This resulted in Joe improving lifetime performance in his cattle.
He fattens bulls at 16 months and achieves average carcase weights of 315 kgs in his black and whites and 340 kgs in his Continentals. "Before feeding Compumate®, we struggled to get all cattle to finish on time but we no longer have this difficulty,'' says Joe.
"The advice and feed range available from Basil Bailey and Thompsons beef feed range are second to none. "Thompsons Supreme Gold grader nuts played as important a role in finishing animals reaching targets on time as Compumate® did with starting animals.''
Transformula
23% milk protein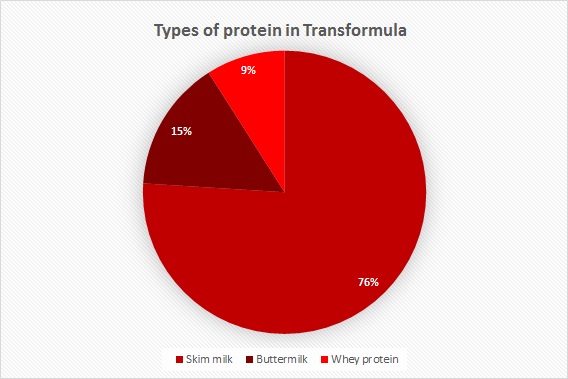 Transition milk is the milk cows produce after colostrum and before they produce what we consider milk. It is higher in most nutrients and antibodies and is beneficial to feed to calves. However, the effect of high TBC's in transition milk and the risk of spreading disease offset these benefits. Using Transformula is the perfect solution and gives baby calves what baby calves need.
A skim and whey milk replacer using milk protein with added immune-stimulants and probiotics for feeding calves in the first days of life.
Over 200g of low heat skim milk, buttermilk and concentrated whey protein in every 300g of feed.
Allows farmers to reduce medicine usage with young calves. Transformula contains 10 times the level of anti- scour agents found in standard calf milk.
Saves ½- ¾ hour work every day.
Contains Kryptonite – a plant extract to ensure the small intestine is a hostile environment for pathogens.
Contains buttermilk which reduces stomach upsets and feed refusals as it acts as an emulsifier enhancing fat breakdown and it contains a lactic acid flavour. Additionally, it can reduce rotavirus infectivity.
It contains a blend of oils which increases digestibility of fat for the calf; it is important to have a good mix of short, medium and long chained fatty acids. Additionally, it contains a blend of Omega 6:3 oils that increase the calf's ability to combat pneumonia.
Mixing rate
Add 1 L jug of powder to 3 ½ L jugs of water (this will make enough milk replacer to feed 2 calves per feed) or 140g of powder made up to 1L of mixed Transformula.  
Feeding rate
| | |
| --- | --- |
| Day 1 | Colostrum up to 10% of calf's body weight or 4L in first 2 hours of life |
| Day 2+ | 280g in 1 ¾ L of warm water twice a day |
Feeding recommendations based on 42kg Holstein Friesian calf. Adjust accordingly for small calves, twins and other breeds.
If disease challenges are high, feed for up to 21 days and then change to milk replacer
Producers of the renowned Shine range of milk replacers for calves and lambs.
© 2017 Bonanza Calf Nutrition Ltd.