Once-a-day calves double weights at eight weeks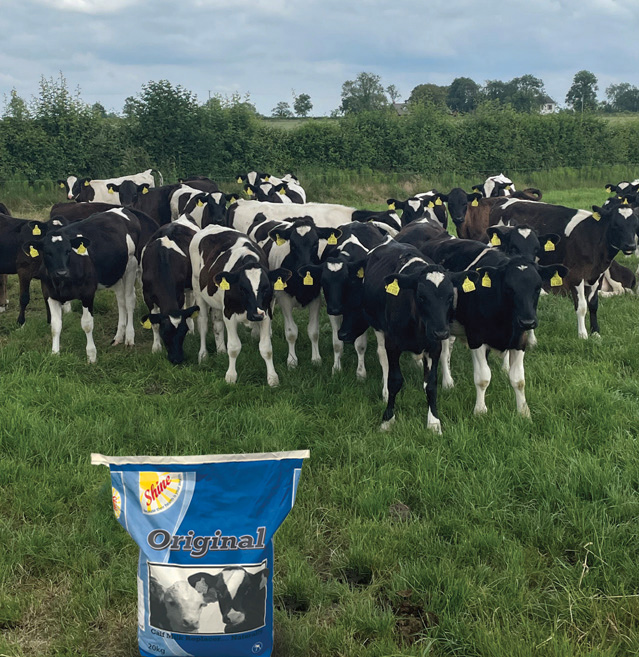 A County Laois dairy farmer is doubling birth weights of calves at eight weeks since introducing a once-a-day milk replacer feeding system.
Peter Corcoran runs a spring-calving herd of predominately British Friesian cows at Ballybrittas with help from family members during the busy calving and calf rearing periods.
Calving gets under way in mid-January and usually ends around 20 April with an even split of dairy and beef calves, which include Belgian Blue, Aberdeen Angus, Limousin and Friesian.
The farm experienced an outbreak of rotavirus a couple of years ago and this spurred Peter into a system of feeding colostrum as soon as the calf is born, following this up with cow transition milk to mature the calf's gastrointestinal tract.
Calves receive antibodies in colostrum from their dam to aid in the protection against rotavirus and coronavirus. This feeding system has proved to be a positive change as there have been no issues since then.
The herd is Johne's-free so Peter can feed cow's transition milk to his calves; all cows are vaccinated for rotavirus. Calves are firstly reared in individual pens where they learn to drink from teat feeders. At approximately two weeks old, they are moved into pens of 12 in a purpose-built calf shed. As required, calves are fed twice a day for the first four weeks, and then fed once a day.
Peter has fed Shine for the past five years. They are introduced to this after receiving cow transition milk for 14 days. Peter chose to feed calves once a day to increase calf rumen development and concentrate intake. Shine Original contains skim milk, buttermilk, and 4 sources of fat. These, along with vitamins, form a curd in the calf's stomach and are broken down over many hours.
"The calves are far healthier and eat more ration and straw at an early age than calves fed twice a day. We are doubling birth weights within eight weeks of birth.''
This slow digestion enables the calf to remain full for longer as, unlike whey-based powders, the digestion process takes place over the course of the day. Each calf receives 3.5 litres of replacer at 20% dry matter once a day from day 28; this is mixed in a trolley with a mixer attached.
All calves have free access to fresh straw, water and ration at all times. By feeding milk once a day, Peter has more flexibility for other tasks. He says calves are more content and have fewer digestive issues with once a day feeding.
This has reduced age at first calving from three years to 24 months. As a follow-on ration, calves are introduced to Gain Start a Calf for the first couple of weeks, and then to Gain Calf Crunch. Calves need to consume approximately and digest 2kg of concentrates before weaning, and when they are fully weaned, they eat upwards of 3kg.
When the calves are fully weaned, Peter turns them out to graze on silage aftermaths on an out farm where they receive ration and have access to Vitulix feed buckets. Calves receive ration for five to six weeks post-weaning and after this they continue to have access to the feed buckets.
Calves receive ration for five to six weeks post-weaning and after this they continue to have access to the feed buckets. Edward Collins of Bonanza Calf Nutrition says calves fed once a day eat approximately 15% more dry feed than those on twice-daily feeding so there is no growth check at weaning. 
"Calves thrive on consistency and Peter's system is built on consistency, which makes his calf rearing successful,'' says Edward.
"His calves are in super shape and are continuing to thrive well.''
Producers of the renowned Shine range of milk replacers for calves and lambs.
© 2017 Bonanza Calf Nutrition Ltd.