Heifers hit 23-month calving target on two-tier calf milk replacer system after colostrum
Ed and Nina Jeremy run a herd of 105 pedigree British Friesians at 290-acre Wolfsdale House Farm, near Haverfordwest, Pembrokeshire. Their Rosedale herd produces an annual milk yield average of 7,000 litres per cow at 3.5% protein and 4.6% butterfat with milk supplied to the First Milk Tesco Cheese Group.
The Jeremys are the fourth generation of Ed's family to farm at Wolfsdale House Farm. Their eldest son, Harry, is involved with the running of the farm, and they have another son, 12-year-old Alfie. They aim to calve heifers at an average of 23 months therefore daily growth rates are important to gaining the desired breeding weights. The feeding regime from birth is key to this.
Calving in the autumn block calving herd gets underway on September 10th with 80% of the herd calved before Christmas and all calves are reared with beef calves fattened at 24 months.
Since Ed's father retired from the business Nina has been solely in charge of calf rearing. Newborn calves receive 3-4 litres of colostrum in the first two hours. Cows are monitored and colostrum is stripped from any that calve at night and this is fed to the calf to ensure the best start in life. For the first 24 hours, calves remain with their mothers in individual straw-bedded pens to maximise colostrum intake.
"It allows the cow and her calf to recover together,'' Nina explains.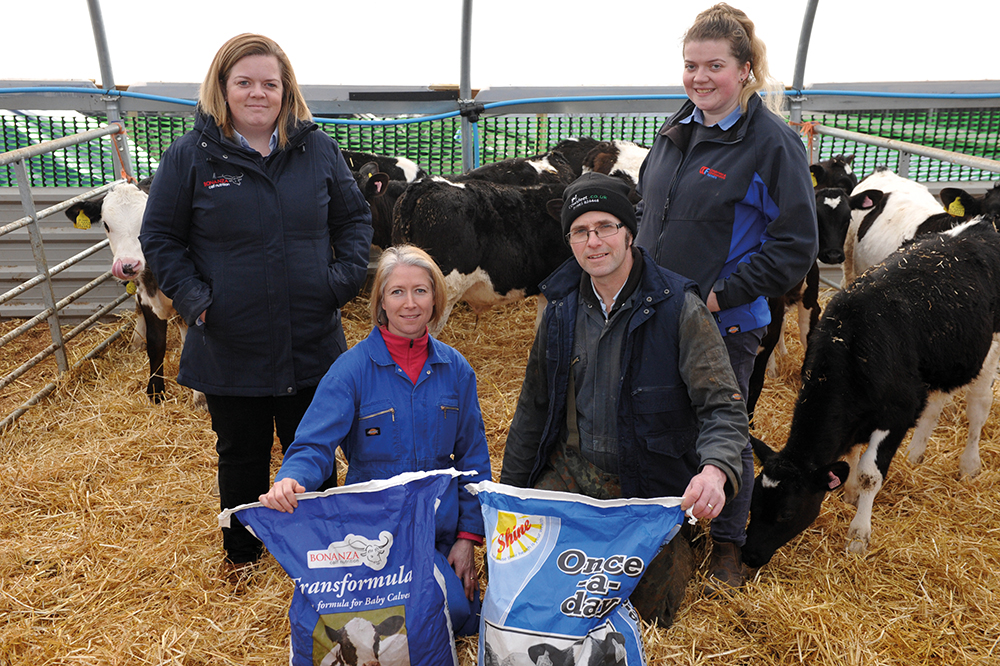 Calves are then transferred to a rearing polytunnel which is divided into six pens with each pen housing 12 calves. After the initial colostrum feed, on day two calves receive two litres of a mixture of Transformula and colostrum twice a day, rising to 2.5 litres twice a day on the third day. Feeding transition milk (milk produced by the cow from day 2-4) is key to encouraging the production of acid and enzymes in the calf and the full closure of the gut wall.
Bonanza Calf Nutrition has developed the 1st transition milk by identifying the key elements of transition milk. From day four, Nina gives calves Transformula only. "They get that until day 11 when I switch to Shine milk replacer, fed twice a day, at 2 litres a feed,'' she says.
When they are old enough, feeding switches to once a day with calves receiving 2.5 litres of Shine Once-a-Day, rising to 3 litres. The 3 litres fed is mixed at the same strength as colostrum so contains the same solids contents as over 5 litres of cow's milk, Katie explained. "Feeding once a day is a huge labour saving, we feed them in the morning and we know they are very content because they never shout between feeds,'' says Nina.
Calves have constant access to fresh drinking water, straw and Breathe Easy, a coarse mixture which is introduced when they are transferred to the polytunnel. Calves are weaned once they have doubled their birthweight – averaging 100kg at 10 weeks. Weaning takes place over eight days at nine weeks, with milk replacer intake decreasing by 0.5 litres every other day.
Once weaned, calves are transferred to another shed where they are housed in groups of 36. Calves are growing at an average of over 1kg a day with some achieving a DLWG of 1.4kg. Ed and Nina are delighted with how calves perform on the feeding programme.
We have used Shine Once-a-Day for several years and are very pleased with how calves do on it but it is the first time we have used Transformula. It is very effective at taking them up to the point where they are ready to be introduced to Shine Once-a-Day,'' says Nina. "They grow well and we don't have the disease challenges that would restrict those growth rates.''
Maintaining the high health status of the herd is also important, in particular measures to safeguard animals from the performance limiting disease, Johne's, therefore no waste milk is fed to calves. Transformula, a product designed specifically for use after colostrum feeding, bridges that gap. It allows for a slow and steady change and that is good for the health of the calf, says Nina. Selective dry cow therapy is used on the herd. "We don't have any waste milk which we wouldn't feed anyway because of the Johne's risk but it is more cost effective to use milk powder than whole milk,'' says Nina.
Continuity of care is another important factor in the calf rearing programme. "I am the only one feeding the calves so I will quickly pick up on something that is not right,'' says Nina.
Producers of the renowned Shine range of milk replacers for calves and lambs.
© 2017 Bonanza Calf Nutrition Ltd.